Westside on the Rise
The Community
Ideally centered in the Grove Park, Almond Park and Carey Park neighborhoods, Bellwood Homes has a front row seat to Atlanta's blossoming Westside.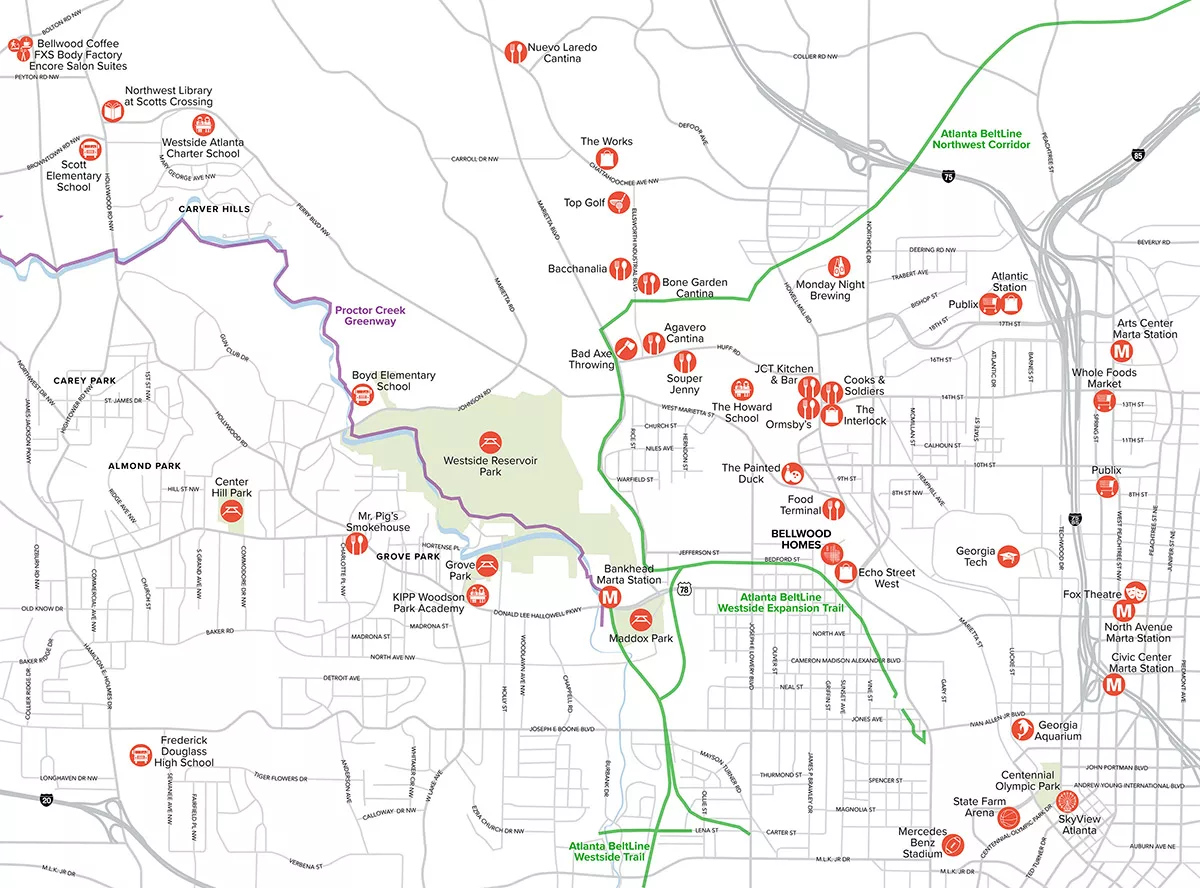 FUTURE MICROSOFT CAMPUS
One of the city of Atlanta's largest development opportunities, Microsoft purchased 90 acres at the previous Quarry Yards property for $127 million in September 2020. While detailed plans for the prized property which is located at the convergence of the new Westside Park, the Beltline and the Proctor Creek Greenway have not yet been released, Microsoft President Brad Smith has announced that the company intends to make its Atlanta property into a major hub. Current expectations include office, retail and mixed-use opportunities as well as the addition of thousands of jobs.
WESTSIDE PARK AT BELLWOOD QUARRY
Known as Atlanta's new gateway to the Westside along the edge of Grove Park, the city's new Westside Park, currently under construction will be Atlanta's largest greenspace. Encompassing 280 acres and centered on the Bellwood Quarry Reservoir, the $26.5 million park is slated to include green, pedestrian and bicycle spaces, accessible trails and panoramic views of the reservoir and the Atlanta skyline as well as connection to the Atlanta Beltline.
ATLANTA BELTLINE AND PROCTOR CREEK GREENWAY
Currently in development, the Atlanta Beltline's Westside Trail Extension will add 1.3 miles to the popular multi-use trail connecting to Westside Park at the doorway to the Grove Park neighborhood. The Beltline's 14-foot wide trail offers pedestrians and bicyclists easy connection to all things intown with over 33 miles of urban trails. Meanwhile, the seven-mile Proctor Creek Greenway will connect the Beltline with the Chattahoochee River as well as linking the surrounding neighborhood with parks, schools and the Bankhead MARTA station.
ECHO STREET RETAIL
A new mixed-use development coming to Atlanta's West Midtown, Echo Street West will offer an interconnected environment of offices, workshops, businesses, entertainment and art directly off the Atlanta Beltline's Westside Trail.